After presenting two open source projects in part 1 of our article series on consent tools , this time Borlabs Cookie is under scrutiny – possibly the most common commercial consent tool (at least it is the most common on the websites decareto scanned). It belongs to the ecosystem of WordPress, the most popular content management system for websites, and as this article shows, it very elegantly exploits the possibilities offered by deep integration into such a platform. The manufacturer is Borlabs GmbH from Hamburg, Germany.
test criteria
As already described in the first part, I created a mini website as a "test setup" for the tools (accessible at borlabsdemo.decareto.com ). This time it's a freshly installed WordPress, for simplicity's sake without any bells and whistles - so no additional plugins or custom theme. Rather, I'm using the "Twenty Twenty Two" theme, which is activated when I install it, and I'm not doing any customizations, after all, there's no beauty prize to be won here. My requirements for the tool are as follows:
Google Analytics should be installed on all pages as an example of a service that requires consent.
Also included will be a lesser-known product, the Squeaky heatmap service. This time I've decided to only play Squeaky with consent.
Content requiring consent is displayed on two subpages: Youtube and Google Maps.
I used the following criteria for the evaluation:
Can the above requirements be implemented?
License price price or price-performance ratio
Ease of use and implementation
Operation possible in the EU (cloud) or locally on the server?
Is there a database for services so that information does not have to be entered completely by yourself? And is it even possible to display information about individual tools?
Can services or cookies be managed in groups?
Can consent for services be individually selected and deselected?
Are visitor consents logged? ( Personally, I also think this function is of little relevance - was there ever a case in which you had to prove that consent was really given and that was done via such a function? I'm skeptical ... )
How customizable is the interface, also in terms of content?
Is there a multilingual interface?
Can consent be subsequently withdrawn?
Spoiler: the test result
Borlabs performed excellently, by combining it with the plugin mechanism of WordPress there was no need to deal with "code" at any point - so the tool is also suitable for non-technical people. I did find the appointment logic used a bit hard to get used to in places (more on that below), but I was still able to implement the site as described above in no time.
purchase and installation
Borlabs Cookie is a commercial tool and available in different package sizes - a license for one website costs (as of 08/30/2022) 39€, the "Agency" package with 99 websites costs 299€. The license is a somewhat strange mixture of SaaS annual subscription and one-time payment, it was not immediately clear to me when I bought it whether the license automatically renews and what "support and updates for 1 year" means, i.e. what is included in the updates. Are the legal texts of the cookies or services also updated with the updates, for example? Indeed, the license is automatically renewed after one year, but the Consent tool itself is still usable after the license has been cancelled and the support has expired.
After purchase and registration on borlabs.io, one has access to a service portal, which is used to manage orders and the license. There you can also download a ZIP archive with the software, which can then be installed as a new plugin in WordPress. There Borlabs then has its own section in the menu.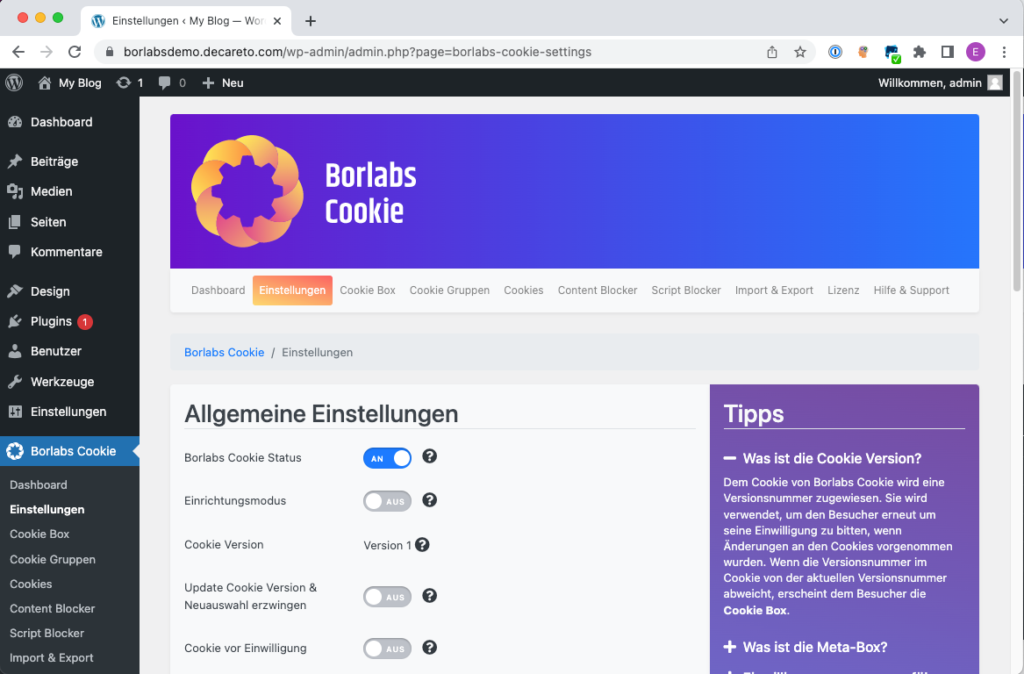 In the first step, the license key sent by email must be entered, after which the consent banner can be configured.
configuration
In the whole admin area Borlabs refers to "cookies", which confused me a bit, because technically a Consent tool doesn't block or release cookies, but external services which set cookies (and some services do without cookies completely, also those can be managed with Borlabs).
Borlabs allows grouping of "Cookies" and gives a sensible grouping ("Essential", "External Media", "Statistics", "Marketing"), which you could change completely, but I didn't think it was necessary. As a first step, I added Google Analytics to the "Statistics" group.
add services
Adding services is solved very comfortably. For the most common services (which of course includes Google Analytics) there are ready-made templates that only need to be selected. The only thing to note is that the service must first be removed from WordPress, if it was previously integrated via another plugin. It is then added via the menu item "Cookies".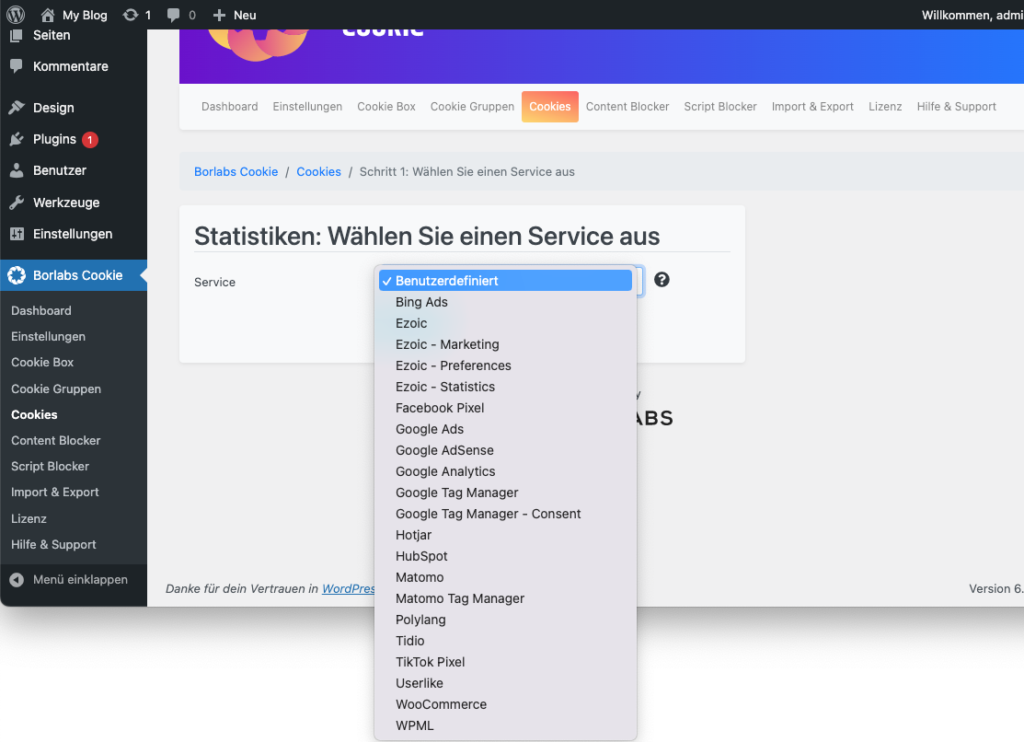 For known services from this list, Borlabs already provides the necessary texts to fulfill the information requirements, so Google Analytics can be added for me with virtually no effort. Only the Google account ID I still had to enter in this case.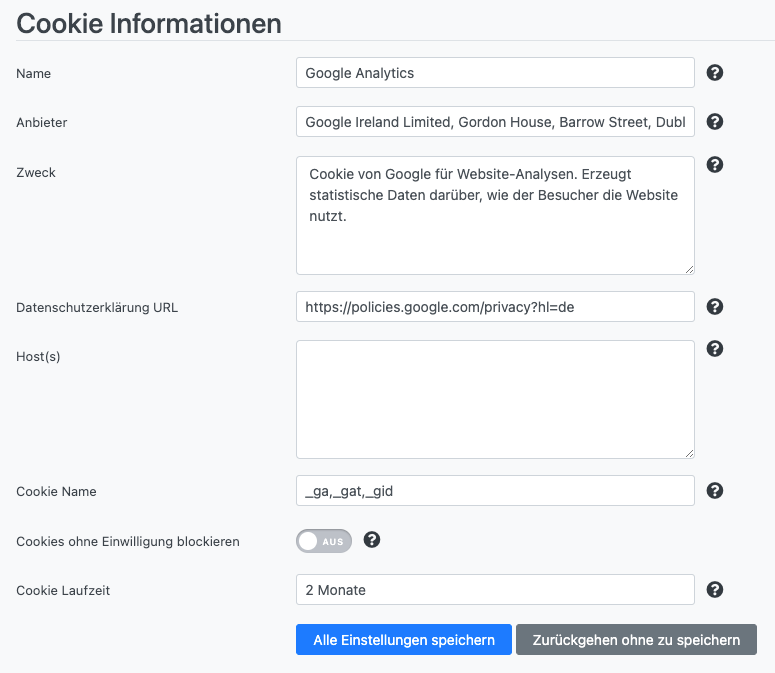 Whether this information is really complete and correct, so that one can do without additional notes in the privacy policy, I can not judge 100% - but I am a bit skeptical and wondered whether at least the legal basis of processing must be mentioned here? The manufacturer draws attention to this with a note: "Cookie information of the services provided by us may not be complete and should be checked before use."
Anyone who wants to can now still intervene in the service's tracking code, but in the default case one would now simply save and be done (for this one service). The Consent tool appears on the home page and only loads Google Analytics after consent, and also only then sets cookies. This is so easy because Borlabs has access to the HTML source code of the website via the plugin mechanism of WordPress. You could say that Borlabs works similarly to a tag manager, and only plays out the configured tools on the page in a controlled manner. This eliminates the need for additional intervention in the HTML code.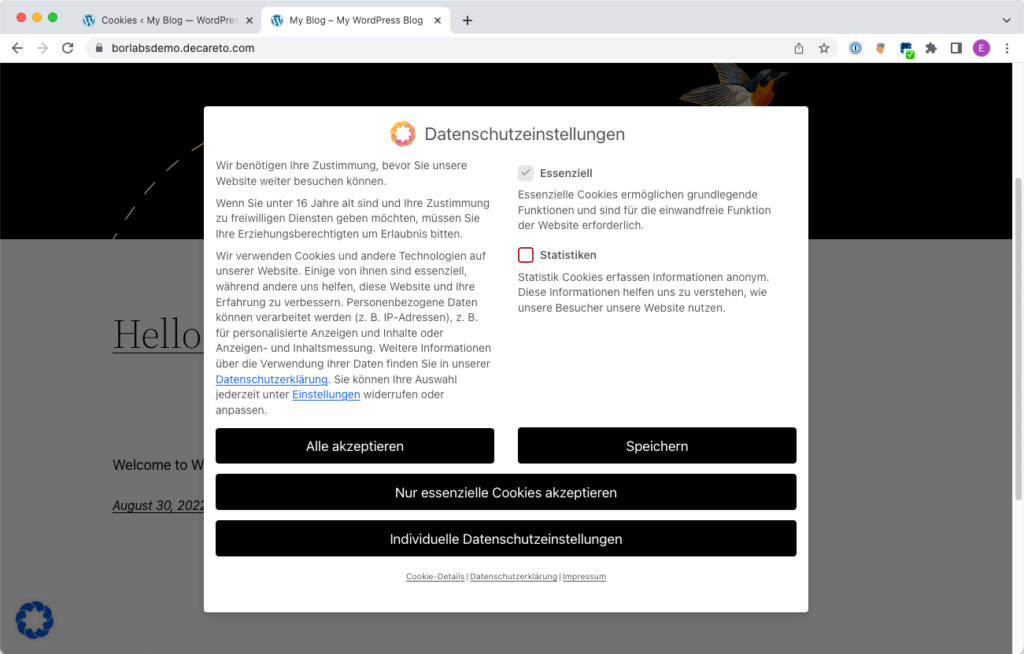 The Consent banner (the "cookie box") is completely configurable via the settings, all texts in the banner and on the buttons, colors, arrangements, etc. can be changed very easily. In case of emergency, the look can be adjusted as desired via CSS / stylesheets.
Custom Services
Services for which Borlabs does not have a template can also be easily added. To do this, the one in the list "Custom" is selected. Afterwards, however, the texts that should appear in the cookie box have to be entered by yourself. The Javascript tracking code, which I would normally copy into the HTML page, can simply be inserted into an input field: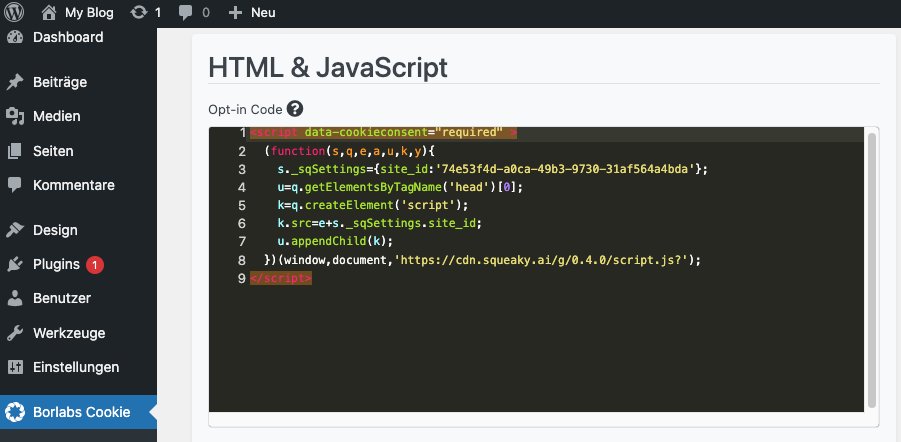 External content and content blockers
Content such as maps or videos are typically incorporated into a page through an "embed code". In order to be able to obtain consent for this content as well, Borlabs provides a "content blocker". This can be enabled for a number of common content types (Youtube, Vimeo, Google Maps, OpenStreetMap, etc.) and then presents a sort of two-click dialog instead of the blocked content.
In the case of Google Maps, I did not use an additional WordPress plugin to install it, but simply created a test page and inserted Google's embed code there as an HTML block.
Without further configuration, Borlabs blocks the card, and the test page is then displayed with a two-click dialog.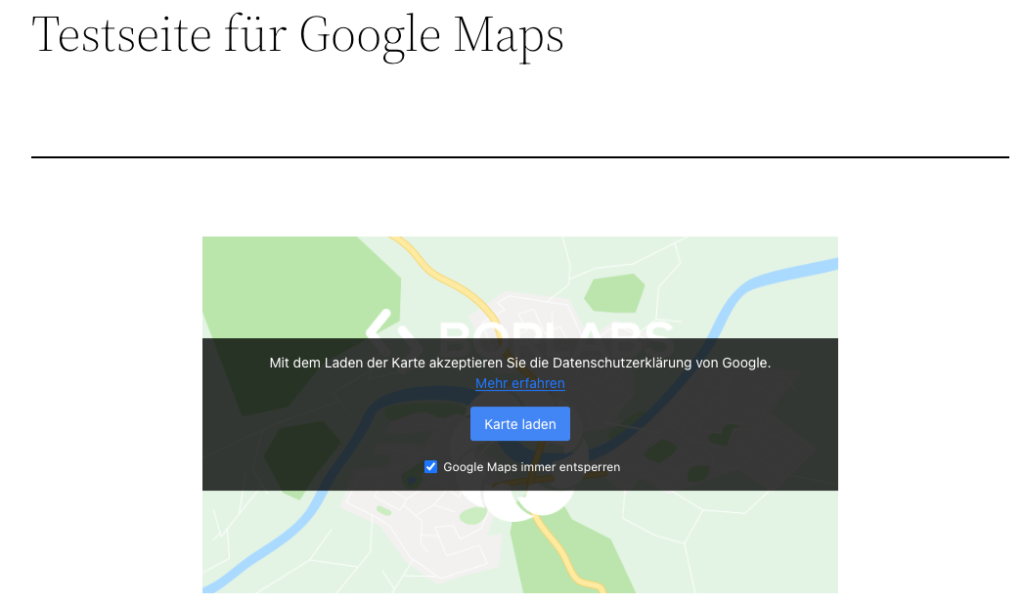 The procedure can be used analogously for YouTube and a whole range of other content.
Consent for external content can also already be placed in the Consent banner. For this purpose, there is the cookie group "External content", which provides ready-made information texts for these services, and is linked to the content blockers. The desired content only has to be selected here and will then appear in the cookie box. Thus, a click on the "Accept all" button releases not only the statistics services, but also the external content on sub-pages.
Conclusion and evaluation
The table below shows my assessment of Borlabs Cookie.
| criteria | comment |
| --- | --- |
| coverage of requirements | Depending on the consent given, it is possible to play out and block services of different types; in particular, it is also easy to obtain consent for content on individual pages. The services and cookies are then reliably blocked. The basic requirements are therefore met. |
| Price, or value for money | From 39€ for a license for one website up to 299€. If you want support and updates, then the price increases annually. In my opinion, the price is very fair, since the setup is extremely time-saving. |
| Simplicity in implementation | Super convenient, especially for very common services. Both the technical integration and the texts for the banner are prepared for common services in such a way that everything goes very quickly. Adding a custom service was also very easy. |
| operation | Borlabs is a plugin for WordPress and runs on the same server as the website itself. So there is no data transfer to an external server or even abroad. |
| Consent for Individual Services | Yes, consent can be given individually. |
| database for services | Yes, as of August 2022, 21 services and 8 external content are predefined. |
| Grouping for Services | Yes, freely selectable. |
| logging of consents | Yes, a consent history is stored in the WordPress database and can be viewed by the user. |
| Customization of the interface | Yes, the interface can be largely customized through configuration and especially through style sheets. |
| multilingualism | I haven't tested multilingualism, but according to the documentation, there are integrations with Weglot, Polylang, and WPML language plugins. With these, the texts of the cookie banner can then be managed in multiple languages. |
| Withdrawing Consent | Yes, there is an always-visible button that reopens the consent banner. |
In summary, I can only say positive things - the product makes a very well thought out impression, all the usecases I needed could be implemented without any problems. A support request I made was answered within a few minutes. Borlabs is only available for WordPress, but is also exceptionally user-friendly due to its specialization on this platform.